2YO Colt of the Year 2017 – MATTICULOUS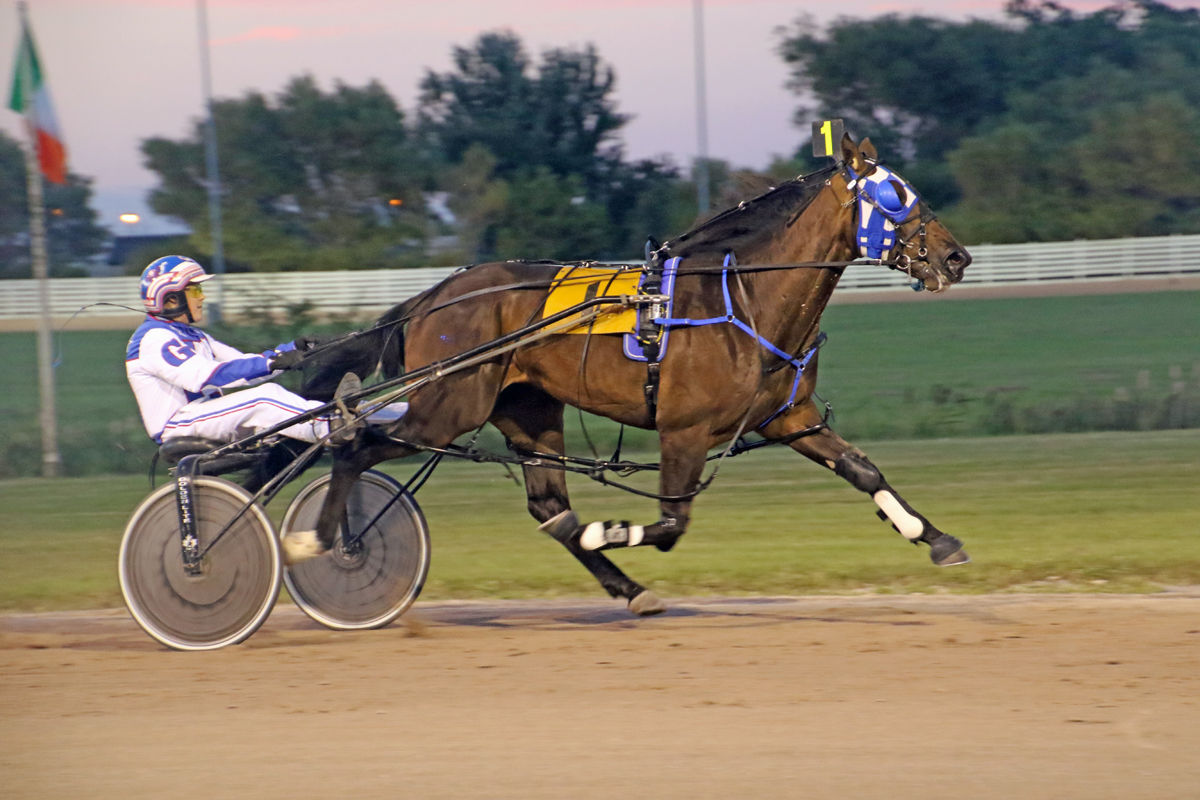 A colt bred by Gareth Price, from the same dam as Miraculous, he was purchased at Builth Sale in 2016 for £32,000.
His Sire, Hasty Hall, needs no introduction and as noted on the BHRC Hall of Fame is a Super Stallion here in the UK. Progeny include stars such as Rhyds Hallstar, Rhyds Desire, Rhyds Five Star, Rhyds Topaz, Titanium – plus countless others.
The Dam, Another Mattie (Presidential Ball x Matts Last Laugh), has bred three winners of the Vincent Delaney Memorial Final in Ireland – Titanium (2014), Miraculous (2015) and now Matticulous.
Owned by the BKB Syndicate & Shon Morgans, trained by Joanne Cairns early on and Alexis Laidler from July, with drivers Andrew Cairns, William Laidler and William Greenhorn Jnr all steering him to victory. From 9 starts Matticulous drew up six consecutive victories and three seconds.
Starting the season at Tir Prince in June he was second place one length behind Rhyds Star Quality in the NWHOA 2YO Colts Championship.
His first win came early in July at Ceredigion in the Charley Brown Memorial 2YO Colts. He was well ahead of the field finishing an impressive eight lengths in front of Sealofapproval, with Dernol Dancer in third.
Towards the end of the month he had moved to the Laidler yard and back at Tir Prince the Sire Stakes 2YO Colts division had only two declared runners. Matticulous made all and was first over the line, three lengths ahead of Georgie Camden.
Just six days later he was back at Tir Prince for the Breeders Crown where seven colts went to post over two heats in the 2YO division. Matticulous was in with Rhyds Star Quality, Teddy Camden and Showtime Thejekyl. He overturned the previous victory of Star Quality and seized victory by one length. Five of the colts declared for the Final the following night and Matticulous took draw one. He was now pitted against stable mate Merrington Movinup, but had the advantage in the draw and was escorted to a win by William Greenhorn Jnr, with Merrington Movinup in second – the two finishing an impressive 11 lengths ahead of the rest of the field.
In mid August he was in THE race for 2YOs, the Vincent Delaney Memorial at Portmarnock. In the Heat he kept up his winning streak and finished a ½ length ahead of Merrington Movinup. The pressure was on for the Final with Monsieur Bibeau clocking a slightly faster heat success. Matticulous though was garnered by pilot William Greenhorn Jnr and together they found another gear finishing 2¾ lengths ahead in a superb time of 1.58.9. Springhill Chisium came in second, with Merrington Movinup in fourth and Monsieur Bibeau in sixth.
The Junior Welsh Dragon held at Tregaron was the next port of call. A small field of five colts lined up (in draw order); Merrington Movinup, Georgie Camden, Zipcar One, Matticulous & Immortal John. The race was all between Matticulous and Merrington Movinup who took the lead early and unfortunately held off all challenges from Matticulous to win by two lengths, with Zipcar One in third a full 19 lengths behind Matticulous.
His last assignment for 2017 was at Tir Prince in the Group 1 National Pacing Colts Futurity. Just three colts declared and Matticulous was tipped as favourite from DKs Happy Forever and Showtime Thejekyl. However, the race did not go all his way with DKs Happy Forever putting in a striking performance and toppling him for the top spot. Matticulous came in second three lengths behind and ten lengths ahead of Showtime Thejekyl in third.
Nominated alongside DKs Happy Forever and Merrington Movinup, Matticulous gained the most votes to be awarded 2YO Colt of the Year 2017. The award will be presented at the BHRC & STAGBI Awards Event this coming weekend at the Mercure Haydock Hotel (WA11 9SG).