BHRC & STAGBI ANNUAL AWARDS EVENT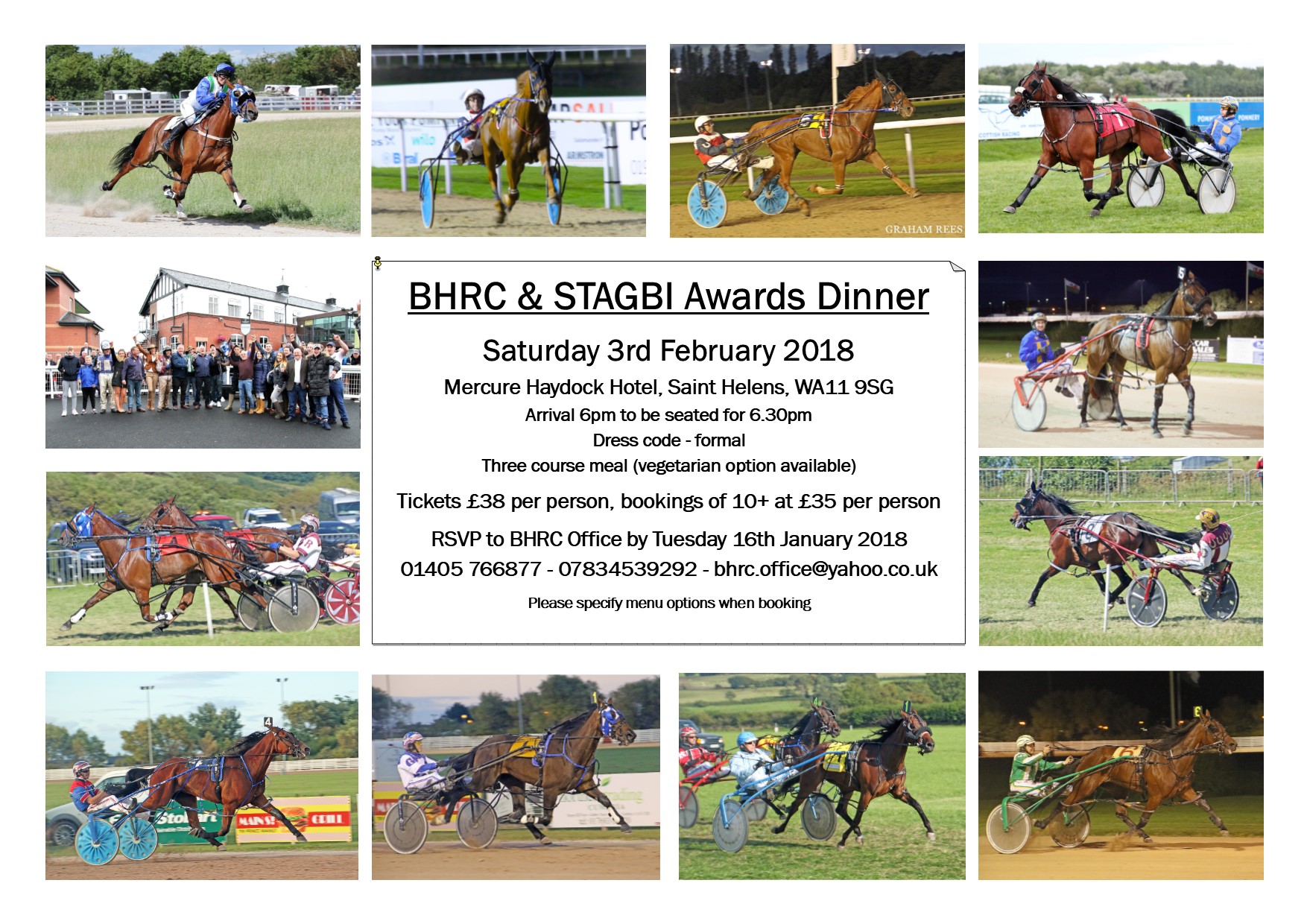 The BHRC & STAGBI will once again be staging a joint Annual Awards Event to celebrate the successes of members of both organisations during 2017.
The Event will be held at Mercure Haydock Hotel (WA11 9SG) on Saturday 3rd February 2018.
The evening will consist of a three course meal (vegetarian option available), followed by the awards ceremony which will be hosted by the respected Thoroughbred and Harness Racing commentator, Darren Owen. The BHRC accolade of Horse of the Year will be kept under wraps and announced by Darren on the night. Following the dinner and presentation of awards there will be a disco or entertainment into the early hours.
The hotel is located off Junction 23 of the M6 near Haydock Park Racecourse. Accommodation at the venue is available through BHRC at discounted rates.
Tickets for the evening are £38pp and can be purchased through the BHRC Office (01405 766877 / 07834539292 / bhrc.office@yahoo.co.uk). Payments accepted by BACS, cheque or debit/credit card. Full ticket price must be paid prior to the event and last date to book tickets will be Tuesday 16th January 2018. (Bookings for 10+ will be discounted to £35pp)
We look forward to welcoming guests from across the UK and Ireland to this inaugural event to join in celebrating the successes from breeding and the sport.
BHRC Awards:
Pacer of the Year – EVENWOOD SONOFAGUN
Mare of the Year – RHYDS PASSION
Trotter of the Year – T'ES TROP FOOT
3YO Colt of the Year – RHYDS ROCK STAR
3YO Filly of the Year – RHYDS MYSTIQUE
2YO Colt of the Year – MATTICULOUS
2YO Filly of the Year – GREENHILL HANOVER
Overseas Horse of the Year – ROBYN CAMDEN
Leading Horse – EVENWOOD SONOFAGUN
Leading Owner – RAYMOND HUSCHKA
Leading Trainer – ALEXIS LAIDLER
Leading Driver – WILLIAM 'Rocker' LAIDLER
STAGBI Awards:
STAGBI Breeders Premium 2017
WALES
1st – Rhyds Rock Star – Grethe Wright – £600
2nd – Miraculous – Gareth Price – £400
3rd – Ring of Fire – Huw Evans – £200
ENGLAND
1st – Evenwood Sonofagun – John Nicholson – £600
2nd – No Brakes – Sue Young – £400
3rd – Coalford Tetrick – Coalford Stud – £200
SCOTLAND
1st – Jack Swagger – J Greenhorn – £600
2nd – Robhall – Hay & Muirhead – £400
3rd – Master Plan – Stephen Gilvear – £200
Brightwells
1st – Rhyds Rock Star – Grethe Wright – £900
2nd – Miraculous – Gareth Price – £450
3rd – Rhyds Cobbler – Grethe Wright – £225
STAGBI Breeders Bonus
BHRC 2YO Futurity – DKs Happy Forever – David Moncrieff – £500
3YO Breeders Crown – Lyons Lememay – G Lyons Mound – £250 & Rhyds Rock Star – Grethe Wright – £250
Musselburgh Final – Evenwood Sonofagun – John Nicholson – £500
Caersws Final – Ithon Inmate – Brynfawr Stables – £500
Appleby Whit Final – Happy Hands – John Linsley – £100
Ceredigion Final – Evenwood Sonofagun – John Nicholson – £100
Welsh Classic Tregaron – Meldoon – Roy Roberts – £100
BHRC 3YO Derby – Rhyds Rock Star – Grethe Wright – £100
Crock of Gold Final – Evenwood Sonofagun – John Nicholson – £50 & Miraculous – Gareth Price – £50
STAGBI Future Broodmares
Corbiewood – Loriznitestar – Thomas Sneddon
AVTC – Laneside Lotus – Samantha Lloyd
Tir Prince – Rhyds Passion – Sally Teeboon
York – Starzapan – Alistair Mackenzie
Wolverhampton – Shades Of Grey – Claire Fletcher
W&B – Greenhill Lilian – Gareth Thomas
The awards evening will also feature presentations by TrotBritain:
Horse of the Year – Equilea Du Hauty 5 wins (6 starts)
Driver of the Year – Andrew Cairns 7 wins, 4 seconds, 1 third
Young Driver of the Year – Jak Foody 5 wins, 3 seconds
Woman Driver of the Year – Therese Fontaeus 2 wins
3YO Horse of the Year – Equilea Du Hauty 5 wins (6 starts)
3YO Driver of the Year – Jak Foody 5 wins, 3 seconds
3YO Trainer of the Year – Jody Foody 6 wins, 3 seconds
Aged Horse of the Year – Sacha Of Carless 3 wins, 1 second
Aged Horse Driver of the Year – Phill O'Neill 5 wins, 3 seconds, 2 thirds
Aged Horse Trainer of the Year – John Foy 7 wins, 4 seconds, 1 third