CLIMB 2 CURE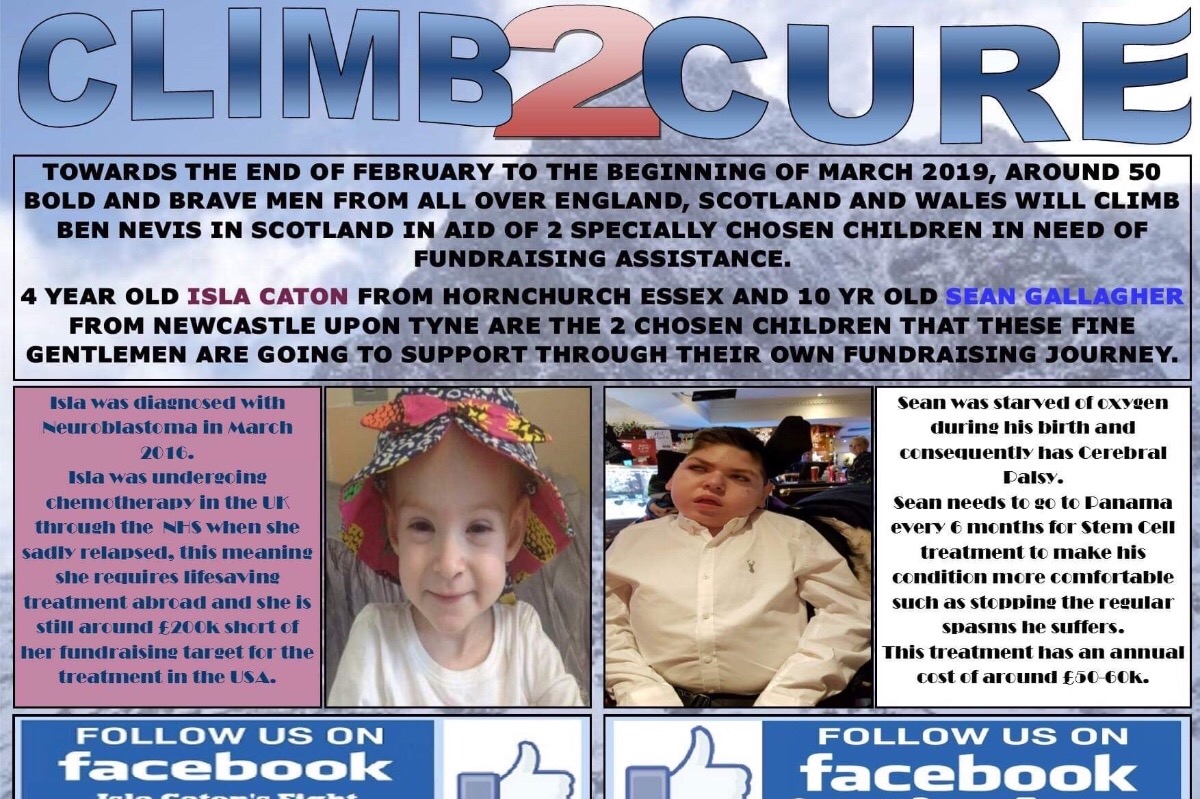 A Group of 45+ men from across the nation have been joined together by Watson Harrop Jr from County Durham to climb Britain's highest and most difficult Mountain Ben Nevis – all of them with zero experience in hiking or mountaineering. They have chosen to take it on at its most difficult in the middle of the Scottish winter, to raise money for two children that are in desperate need of all of our help.
ISLA CATON – a 4 year old little girl from Hornchurch, Essex
Isla was diagnosed with NEUROBLASTOMA in March 2016. At just 2 years old Isla was undergoing chemotherapy in the UK through the NHS when she sadly relapsed. This means that she requires life saving treatment abroad and she is still £200,000 short of her fundraising target for the treatment in the USA.
SEAN GALLAGHER – a 10 year old boy from Newcastle Upon Tyne
Sean was starved of oxygen during his birth and consequently has CEREBRAL PALSY. Sean needs to go to Panama twice annually for stem cell treatment to make his condition more comfortable to prevent the regular unbearable spasms he suffers. Sean needs £50-60,000 a year to pay for his treatment.
The ever growing team which has come together from all corners of Britain comprises World Boxing Champions and Reality TV Stars. They will all take the time to climb this mountain in aid of these two lovely special children, and also hope to meet up with them before they start on their epic quest.
Please get behind this team and help them raise funds. Once the climb is completed all funds raised will be split equally between Isla and Sean.
Sponsorship can be pledged at the GoFundMe Page.
You can also follow the stories of both Isla and Sean on Facebook.