** DRIVE OF THE YEAR 2016 **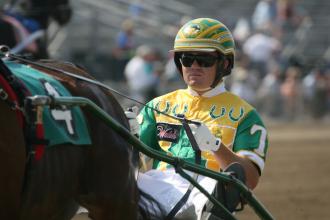 Introducing a new BHRC Award kindly supported and sponsored by Tim Tetrick
** VOTE – VOTE – VOTE **
A poll has been opened to determine the Drive of the Year for the 2016 season. The lucky winner (by highest number of votes) will win a gift package put together personally by the infamous Harness Racing pilot, Tim Tetrick.
The poll will be open until 12noon Tuesday 14th February 2017. Please click the link below to Vote!
The following have been shortlisted as nominations for the TIM TETRICK BHRC DRIVE OF THE YEAR 2016 Award:
Race 1 – James Haythornthwaite & Porcelain Seelster
James Haythornthwaite comes from last to clinch the Victor Carson Memorial Final with a well-timed run at Corbiewood on board 3YO filly, Porcelain Seelster (September 2016)
YouTube – James Haythornthwaite & Porcelain Seelster
Race 2 – John Nicholson Jnr & Cochise
Sixteen-year-old John Nicholson Jr holds off 2015 Leading Driver William 'Rocker' Laidler to win the Red John Memorial Hurricane Pace at Musselburgh in a cool drive on board Cochise (June 2016)
YouTube – John Nicholson Jnr & Cochise
Race 3 – Ian Pimlott & Thunder Jiel
Seasoned campaigner Ian Pimlott guiding Thunder Jiel to the horse's first win on British soil since being imported from France, at the inaugural fixture at Chelmsford City Racecourse which followed the Thorougbred card and was televised live on At The Races (November 2016)
YouTube – Ian Pimlott & Thunder Jiel
Race 4 – Mick Lord & Shaba Hanover
Mick Lord with what commentator Darren Owen described on the day as a 'perfectly timed' drive to guide Shaba Hanover to victory at York, having painted the outside fence to pass the leading horses in a thrilling finish (October 2016)
YouTube – Mick Lord & Shaba Hanover
Race 5 – Richard Haythornthwaite & Ayr Majesty
Richard Haythornthwaite guided former top British juvenile Ayr Majesty to an impressive victory when winning the Tregaron leg of the Standardbred Sales Company Battle of the Big Guns, which was the horse's sole win in the toughest of top flight company (August 2016)
YouTube – Richard Haythornthwaite & Ayr Majesty
Race 6 – Vicky Gill & Rhyds Mystique
Vicky Gill passed the field coming home on Rhyds Mystique for the BHRC 2YO Filly of the Year's first of 8 victories from 9 starts in 2016 when winning the NWHOA 2YO Championship. This performance was only the first indication of what was to come from the champion performer (June 2016)
YouTube – Vicky Gill & Rhyds Mystique
** VOTE – VOTE – VOTE **
Click the below link to cast your vote:
LINK – Drive of the Year Vote
The poll will be open until 12noon Tuesday 14th February 2017