GREENTREE STANDARDBRED MARES PACING SERIES 2018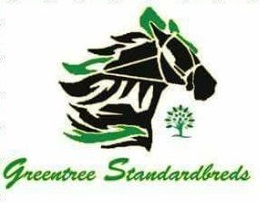 After the success of the 2017 Mares Series at Corbiewood last season, the series returns in 2018 with new sponsor Greentree Standardbreds – a stud established in the 1970′s by Jack Clark, which is now being revived by his son John Clark and built back up. Based in County Durham the stud has ten broodmares currently being bred and have recently imported the grey stallion Smack Talk; which is nominated to the Sire Stakes and Breeders Crown.
The 2017 series, sponsored by Oakwood Stud, saw Dontstoptheparty and Brian Gilvear take the victory in the final.
For the 2018 series, Mares must be aged 4 and over and must be BHRC Handicap Grade 1 and above.
Conditions
Mares to be nominated by Sunday 3rd June 2018, accompanied by nomination fee of £150.
Top 12 handicapped mares will be accepted.
Each mare guaranteed a minimum of four runs in the six legs.
Entry Fee per Leg at £40 per horse.
Prize money for each Leg – £400/£100/£50
First three legs staged as Open Preferred Handicap in two lines as per BHRC Handicap System
Legs 4 to 6 staged as Conditioned Open Preferred Handicaps in two lines based on monies won within the series (mares on same monies won BFP)
Mares MUST compete in at least one of the first three legs AND one of the last three legs to be eligible for the Final
Final
Top eight highest earners in the series qualify for the final.
Free entry. Prize money – £1000/£250/£150/£100
Ballot for Position on race day. Raced in two lines of four.
Rug and Trophy to winner
The series will be staged over seven races – six legs and a final:
Leg 1 – Friday 15th June
Leg 2 – Thursday 21st June
Leg 3 – Thursday 28th June
Leg 4 – Thursday 5th July
Leg 5 – Thursday 12th July
Leg 6 – Thursday 26th July
Final – Thursday 9th August
"The aim of the Greentree Standardbreds Mares' Pacing Series, in conjunction with the STAGBI Future Broodmares races," said Sarah Thomas, who created the series in 2017, "is to provide the owners and trainers of mares not only in Scotland but in neighbouring regions who race at Corbiewood with the opportunity to keep mares in training longer before considering the option of breeding.
"These races add real merit to any mare's CV," Thomas explained. "and the grand final for a decent purse rewards connections who defer going down the breeding route for an additional season or two. It was hoped that these races would be the type that connections really wanted to win and based on the atmosphere on the night of the final last year, this was certainly achieved. With some of last year's mares already known to be back in training, plus the potential pool of mares who will become eligible this year, the 2018 series should be a really exciting prospect!"
All payments to Sarah Thomas (07817 489369) or Karen Kennedy (07747 165705).
CLICK HERE to view Full Information