OBITUARY – Jimmy Brough Snr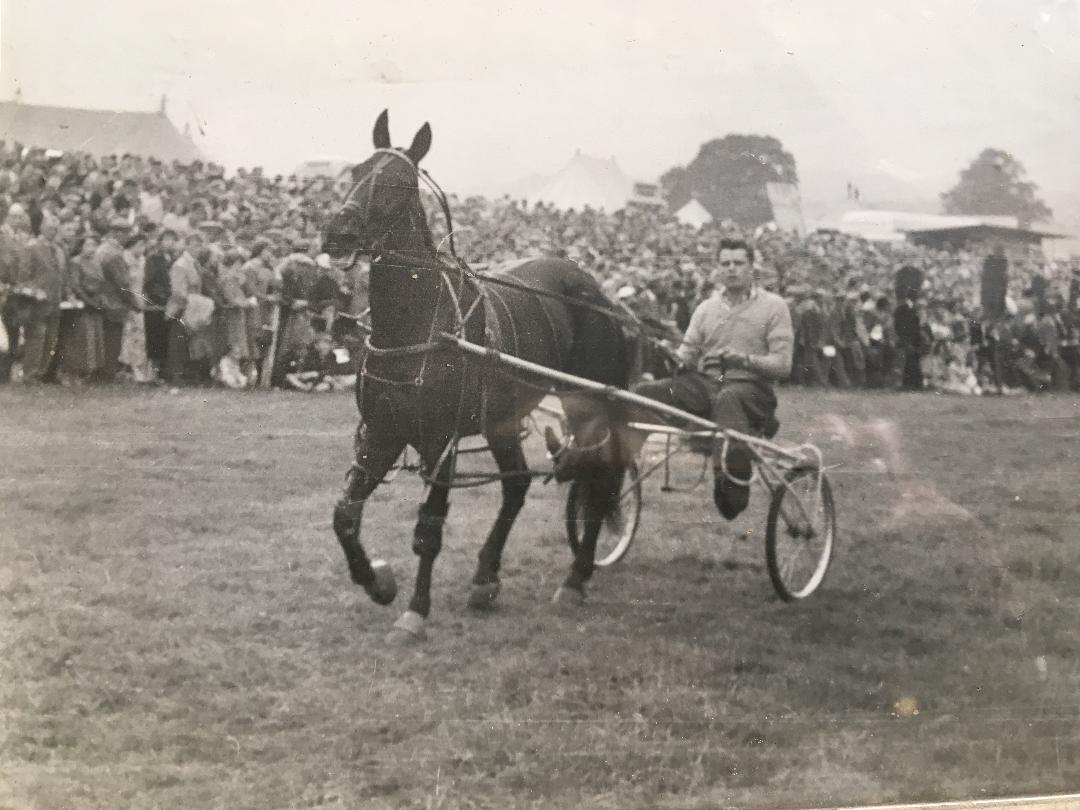 It is with much regret and sorrow that I am writing this message to inform everyone of the sudden passing of Jimmy Brough Senior aged 86 on Saturday 20th October at his home in Middleton In Teesdale.
The funeral of Jimmy Brough Senior will take place on Friday 2nd November 2018 at 11am, at St. Mary's Church, Town Head, Middleton In Teesdale. DL12 0RD (Family flowers only please).
For those of you who are relatively new to trotting (i.e. last 20 years or so) you may not remember or even know Jimmy; Jimmy was Father to Jimmy Jnr, Angela Tookey's, Brian and grandfather of Tina Brough.
Jimmy was born and brought up with trotting as was his father before him, trotting was a major part of his life for many years, until the breakaway happened in the nineties.
Jimmy met and married his wife Jean, they were a devoted couple and Jean supported Jimmy's love of trotting, accompanying him to every meeting.
At this point Jimmy and Jean were huge supporters of trotting, Jimmy now owning and training his own horses on their farm in Middleton In Teesdale, he had both Pacers and Trotters and never still missed a meeting within the Eden Valley, Kendal and North of England etc.
Trotting still continued to be a major part of Jimmy and Jeans life's as their family grew with each of their children, first Jimmy Jnr, Angela, Brian and the youngest and late additional to the family Sue (Sue being so much younger was always considered the baby of the family and protected by all her older siblings). The whole family now being loaded into the Horsebox.
In the late sixties Jimmy Jnr was the rider/driver of his fathers horses followed by Angela and Brian. Angela's favourite horse was Young Morecambe she drove him in ladies races and was probably the last horse she drove on a race track. Jimmy later gifted Young Morecombe to his daughter, Morecombe was present at her wedding when she married Les Tookey, Morecombe spent his retirement years at their farm in Southside and he is now buried there. Angela and Les continued the family tradition and her fathers love of trotting, to this day successfully breeding, training and racing their own horses, although neither drive in races anymore. Their children although not interested in driving etc do support their parents by a attending meetings when they can. Jimmy Jnr and Brian also married and continued the family tradition of not missing a meeting bringing along their young families. Jimmy Jnr and Brian continued driving their fathers horses, which included Topper, JHK, Young Morecombe, Gay Hodgson, later years Don Juan, Glenburn, to name but a few. Jimmy Jnrs wife Caroline got the bug and started driving in ladies races and continues to drive occasionally to this day by driving her daughter Tina's horses. Jimmy's senior youngest daughter Sue drove in ladies races for a short period of time, in the hay day of racing in the North when there was racing every weekend and mid week.
Jimmy was a member of the Eden Valley committee for a period of time, attending their meetings and helping the organisation.
Jimmy and his family where huge supporters of Mussleburgh until he retired from trotting. He would load up the horsebox, hitch on the caravan and spend the week there, in the days when caravans were allowed and were ten or twelve deep from the end of the first bend (now gas works corner) to the very top bend.
After retiring from trotting Jimmy and Jean started to tour the countryside with their caravan, until he considered he was getting too old and his arthritis was becoming a problem.
Jimmy was kind, thoughtful and funny, typical of his generation he loved to reminisce and tell stories, would help anyone if he could, if he couldn't help he would send the boys. Jimmy was a family man, totally devoted to his wife Jean, children, grandchildren and great grandchildren. Jimmy and Jean loved to have the whole family around them.
I spent many a week during the school holidays as a young child, playing with his youngest daughter Sue on his farm. Jimmy used to allow me to ride and help fast work his horses when I was there. Sue and I would go off with Jimmy in the wagon when he was working leading straw etc.
Jimmy's sudden passing was a real shock to his family, but I am sure they will be happier in the knowledge that Jimmy has now been reunited with his beloved daughter Sue and her late husband Bill. They will be smiling down on us, eagerly awaiting next season's racing whereby Angela and Les will hopefully continue racing Southside Billysue, aptly named after Sue & Bill.
RIP Jimmy
from your adopted daughter Dawn (Forrest)